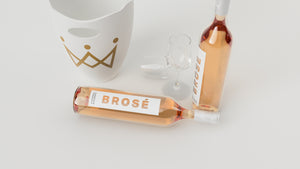 INVEST IN BROSÉ
YOUR CHANCE TO OWN A STAKE IN BROSÉ WINE LTD AND BECOME A SHAREHOLDER AT THIS EARLY AND VERY LUCRATIVE TIME! 
EXECUTIVE SUMMARY AND EIS INVESTMENT OPPORTUNITY:
Rosé is the fastest growing and strongest trending wine category globally with an increase in Provence Rosé sales across the board.
Social media-savvy millennials and gen-z are currently dominating wine consumption and choosing affluent wine brands to align with and drink.
This trend is forecast to continue and exponentially grow.A niche in the market stimulated a vision for a masculine Rosé - Brosé Wine Ltd was born.
Founded in March 2019, Brosé Wine Ltd was created out of a lack of Rosé wines that were aimed towards the male market.
Rosé consumption has increasingly spread across the male demographic over recent years. Brosé Wine Ltd aims to become the next male beverage of choice.
Brosé Wine Ltd have now successfully completed their £150,000 SEIS (Seed enterprise investment scheme) raise.
Brosé Wine Ltd have been giving advanced assurance to continue raising investment using the HMRC government backed EIS (Enterprise investment scheme) by investing through EIS, investors can receive up to 30% income tax relief on their investment, as well as other tax benefits such as capital gains tax deferral and exemption.
Brosé Wine Ltd's seed fundraise investment is being exclusively managed by Westbrooke Associates
If you would like to take advantage of this investment opportunity please contact info@westbrookeassociates.com and the firm will share the investment brochure with you and answer any questions you may have. 
Thank you for your enquiry.